Moving on Center School for Participatory Arts and Somatic Research is a unique and pioneering institution in the field of Somatics. MOC's training programs integrate multiple somatic systems with performing and healing arts toward social change. The school offers a unique opportunity to integrate the desire for personal growth with the development of meaningful professional skills applicable to the fields of performing arts, education, healthcare and social change.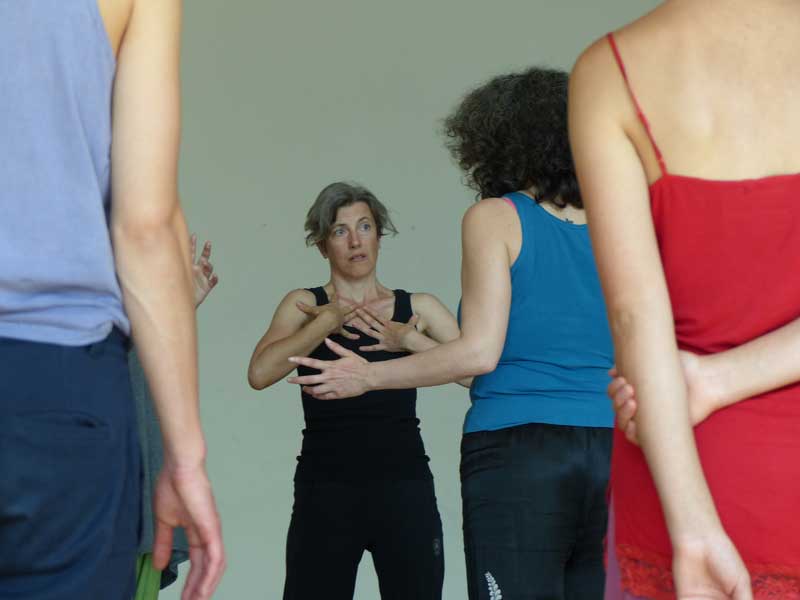 ---
---
---
Carol Swann (RSMT/RSME, AmSAT) is a teacher, private practitioner, facilitator, director/co-founder, performer and activist. Her work is focused on contributing toward a more socially just and inter-connected world. She has been teaching and performing Somatic based work for thirty-five years in the U.S., Latin America, Russia, Israel and Europe. Her work is deeply influenced by her parents Bob & Marj Swann, Contact Improvisation, Release Technique, Simone Forti, Anna Halprin, Andre Bernard, Process Work (Arnold Mindell), Body-Mind Centering (tm), Theater of the Oppressed, Hakomi Body- Psychotherapy, Roy Hart Theatre, Ruth Zapora, John Cage, Meredith Monk, Balkan Singing and numerous other artists, art forms, nature and liberatory politics.
Read Full Bio
Foundation
Founded in 1994 by Carol Swann and Martha Eddy at Alice Arts Center in Oakland, Moving On Center (MOC) has been a pioneer in the field of holistic and interdisciplinary education.
---
---
Transition
In 2008, challenged by the economic demands of the Bay Area we left our home at Alice Arts Center. MOC went into a hibernation stage on the West Coast while expanding connections internationally.
---
---
Rebirth
MOC returned to the Bay Area, hosted by Zacho Studio in San Francisco (2017) and Finnish Hall in Berkeley (2018 - current). Workshops are offered in the extended four-weekend trainings format.
---
---
Through bridging the healing and performing arts for social change, our mission is to support, develop and inspire embodied community leaders, artists and activists and to model new educational values and perspectives.